| | |
| --- | --- |
| email = betasoftware@live.com | (208) 241-2723 or (208) 232-3694 |
"SUPPORT" has long been the easiest and most complete tool for calculating and preparing documents for Child Support in Idaho.
This program automates the task of computing not only Child Support, but also Tax Benefits, Health Insurance shares and Child Care shares. The program includes several reports for printout.
These reports include: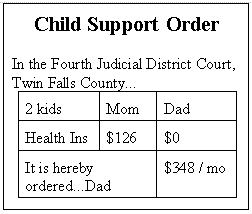 The Child Support Order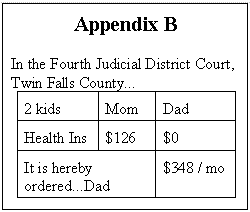 The Affidavit Verifying Income (Appendix A)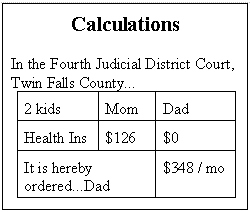 The Standard Child Custody Worksheet (Appendix B)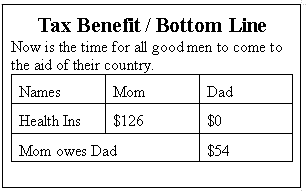 The Shared/Split Child Custody Worksheet (Appendix C)
Beta Software's Calculations Sheet (This shows how we get our numbers.)
The Tax Benefit / "Bottom Line" Sheet (This shows how the tax benefit is determined
and it also shows the "bottom line" of who owes what to whom with
Child Support, Health Insurance, Child Care and the Tax Benefit.)
The "Child Support Order Summary Form" is also available on the Reports Tab.
(This is also referred to as the "Transmittal" Form.)
---
To order your 30 day free trial copy of the child support program on CD, email us at betasoftware@live.com or call (208) 232-3694 or (208) 241-2723.
Please include the attorneys' names who will be using the information from this program, the firm name, the contact person, mailing address, phone, fax and email address.
Click here to go back to the new 2021 version
Click here for "Special" FULL 2015 program
Click here for "Special" Network 2015 update
Click here for the full 2009 version
Click here for "Special" update to 2015 Windows 7 Only